Before you get any preconceptions about how violent this game can get, let's paint a clear picture of what to expect in Sniper Elite V2.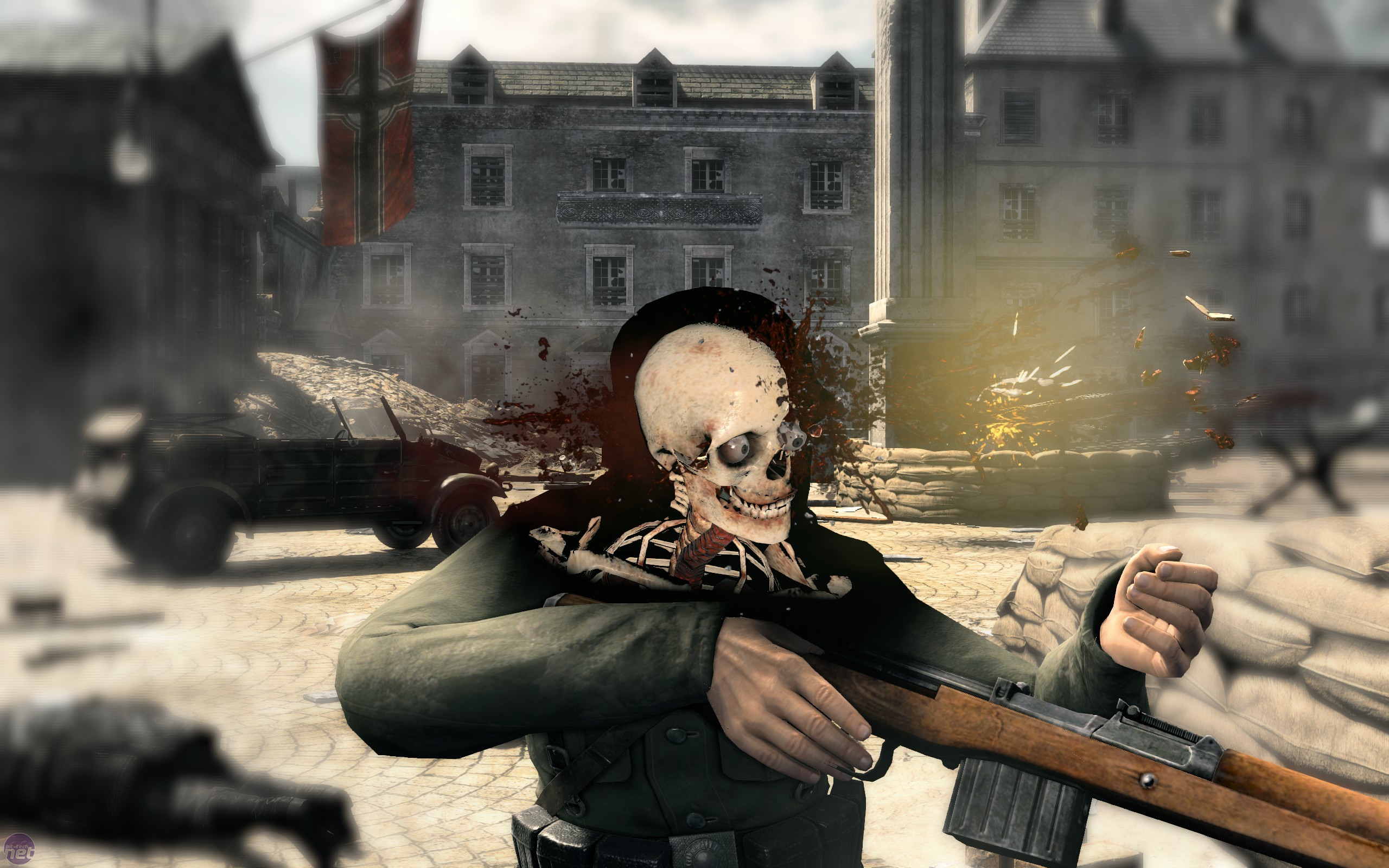 Anatomy of a Human Skull during Headshot | Kill Cam
This is one of the gory but rather gratifying killcams when you take down a soldier in Sniper Elite V2 . That's the X-Ray Camera doing its thing right there when you aim at a certain part of the body, crotch and all included. The level of detail you get to see while taking shot is phenomenal and bullet time gives you the full satisfaction of taking a kill in this game. While I may sound like a sadistic cold blooded killer, this is the only silver lining you'll find in a game that's riddled with annoying level design and AI.
The game's story, like it's predecessor, puts you in the shoes of an Allied Sniper, towards the end of world war 2 , who's on a secret mission to take down German Scientists before they reveal their secrets to their Soviet compadres, who are looking to develop and launch a chemical weapon. While this premise seems just about good, the game which may take you back to the days of Jude Law in Enemy at the Gates, you'd expect to see at least some real world experiences back in world war 2, this is anything but like that.
You're just a lone ranger with a rifle behind your back and the hordes of the axis just waiting to be shot. Our sniper protagonist who clearly doesn't have morals is voiced beautifully as he narrates the mission briefing in the loading screen and cut scenes but that's just about it. No back story, no reason as to why he's the only allied soldier you see in Berlin and evidently his problem with Russians.
History buffs would be offended when playing this game because you won't expect a factually accurate description of the second world war but rather you will face the real conditions that are set for sniper in the real world which is what it's meant to be. Environment, bullet drops and wind resistance all factor into how you a take a shot when you play on higher difficulties, the icing also is you can customize these settings and set a real challenge for yourself and you'll find yourself sitting in the shoes of a sniper picking off targets like a predictable clay shooting spree.
Yes, predictable. The AI is terrible. Terrible at least when I played it on the higher difficulty setting. Enemy Snipers will constantly fire at you which is as good as them holding a  sign that says "I'm here, shoot me through my skull". Enemy foot soldiers will eventually maneuver towards your position when they hear you take a shot or see one of their own get their head blown off. I must admit though, I had insane amounts of fun booby trapping the place with dynamite, mines and trip wires and see the sorry sods blow up. The game goes about executing kills in a similar fashion and gets quite mundane in the long stretch but when you find innovative ways to perform some crazy shots, the game gets your attention back again. You can even shoot their grenades while they are about to throw it at you and you can guess what happens next.
Graphics wise, this game does get points on the battle scene, which look amazing. Well, most of it is rubble and burning buildings but beautifully detailed none the less. Although, I can't help but wonder why I can't open doors and why everything in the environment is impervious to a bullet that is designed to shatter human skulls. Character models could have been better especially since at one point, some of the enemy snipers begin to look like you. I sense that this was a hurdle developers didn't focus on; especially since they figured we'd be busy blowing up kidneys and spleens.
When it all comes down to it, Sniper Elite V2 does exactly what it was meant to do and promises a very delightfully sadistic engaging sniper game. With a very long campaign ( 10 hours) to keep you going, it's a game worth revisiting back to, especially since it comes with multiplayer co-op and over-watch mode which is like spotting. The game even managed to outsell the likes of Activision's Prototype 2 in the UK market. There may be a sequel in the works as you would expect that with our protagonist's epic line as he walks behind with explosions raging behind him.
Score: 8.5 / 10